Every boat tells a story, whether the captain is there to tell it or not -- the curve of her bow, the lines of her stern worn by water and time. Below are just a few historic snippets shared by captains in the glorious life of their treasured vessels. Stories are listed in alphabetical order.
---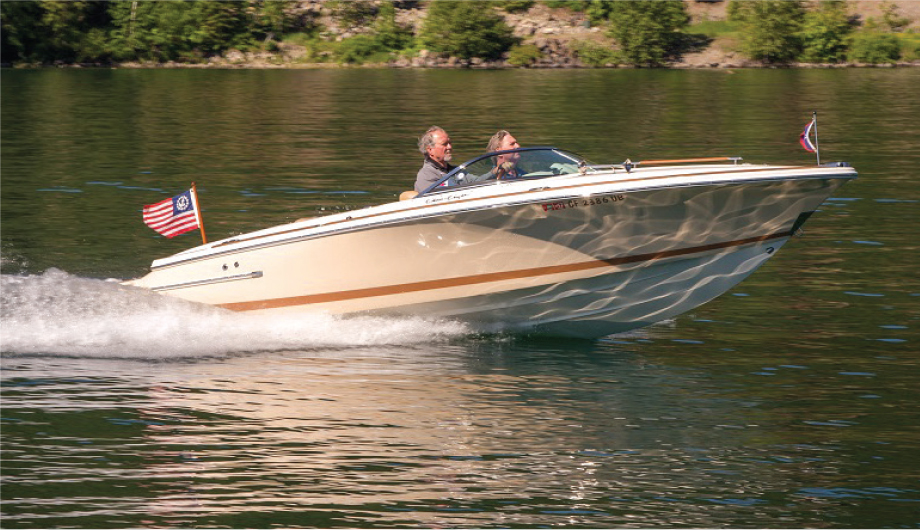 ATOMIC BLONDE | Captained by Carl & BB Straub from Kalispell, MT
In 1874, Jesse James' gang robbed a train at Gads Hill, Missouri; Harry Houdini, the magician and escape artist, was born; Levi Strauss began marketing blue jeans with copper rivets at US$13.50 per dozen; and the Sydney General Post Office in Australia opened. Later, barbed wire was invented before Jesse James' gang returned and decided to take another train, this time in Kansas, just before Christmas.
It was also the year that Chris Craft began building pleasure boats and, in the ensuing decades, a lot of water has passed under the hulls of this enduring American icon. And one can't overlook the list of dignitaries who haven't recoiled from being seen aboard a Chris Craft. We acquired our first Chris Craft Speedster (2005). However Porsche filed a Trademark suit against Chris Craft so the Speedster name became a Lancer. Our Speedster was fitted with a six cylinder and we wanted more speed. This led us our current boat a 2009 Chris Craft Woody Heritage Edition, #74 out of a total of 99 built. It was a one owner boat kept in a custom made garage for the boat and trailer in the Delta in California. Best of all it had 100 hours so in 2017 new upgraded. It has continued to serve us well. This Boat is an absolute head turner! With the combination of the sleek looks and the sound of the roaring exhaust, it's almost guaranteed that every time you're out on the water you will have people pointing and asking about the Chris Craft Woody Heritage. It is the Maserati of the waterways! A boat that will never go out of style and can be kept in families for generations
---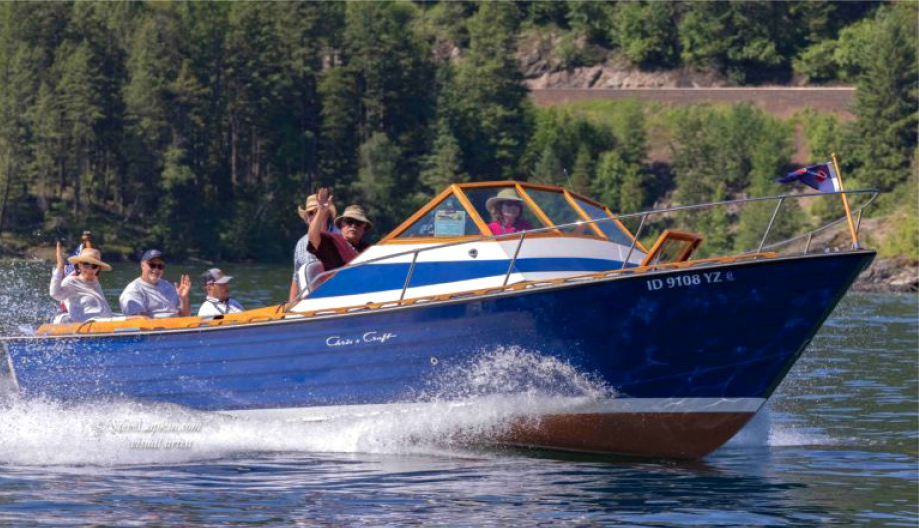 BLEW BY YOU | Captained by Steven & Kim Liss from Harrison, ID
Blew By You is a 1967 Chris Craft Cutlass 26ft with a 10ft beam produced from 1961-1967 in Pompano Beach, Florida. Of the 250 total built, only 50 were twins.
My first wood boat exposure came at overnight camp in Wisconsin. I paddled the wooden canoes and was the coxswain in the winning 30-man war canoe races. Most evenings a friend of the camp owner would boat over for dinner, then take a few of us for a cruise in a Cris Craft Runabout.
I first saw the Cutlass while buying a sled trailer. The seller was hoping to complete the interior which never materialized. He had acquired the boat from Portland where the topside hull was done. The interior was completely bare -- no engine covers, no sole, no sealing boards, no helm seats or dog houses. After some 300 hours, myself along with 2 other club members completed the interior.
Sea trials were less than stellar. The starboard wouldn't start, wired wrong, and both engines grossly out of time, no timing marks. We went through several new props until we found the right pitch. Compression was low and erratic, severe blow by, no power above 3000 rpm. When we pulled both motors we couldn't believe what we found -- off center bores, pitted cylinders, crushed oil pickup, no windage trays, and cracked valve seats. Total junk, but worth the fix! Currently building two blueprint 350's! STAY TUNED!
---
BRODIE | Captained by Brett & Jodie Sargent from Millwood, WA
The Brodie is a 1962 Chris Craft 23ft Holiday Hardtop. It was an original Lake Tahoe boat that spent its entire life on Lake Tahoe until being purchased in 2009 by Seth Katz, of Katz's Marina from Lake Hopatcong, New Jersey.
Soon after being brought to New Jersey, Katz's Marina embarked on a total restoration of this boat, bringing it to the condition it is in today.
The Brodie is one of only three 23ft Holiday Hardtops built for 1962, with only two left in existence today, making it a very rare boat.
---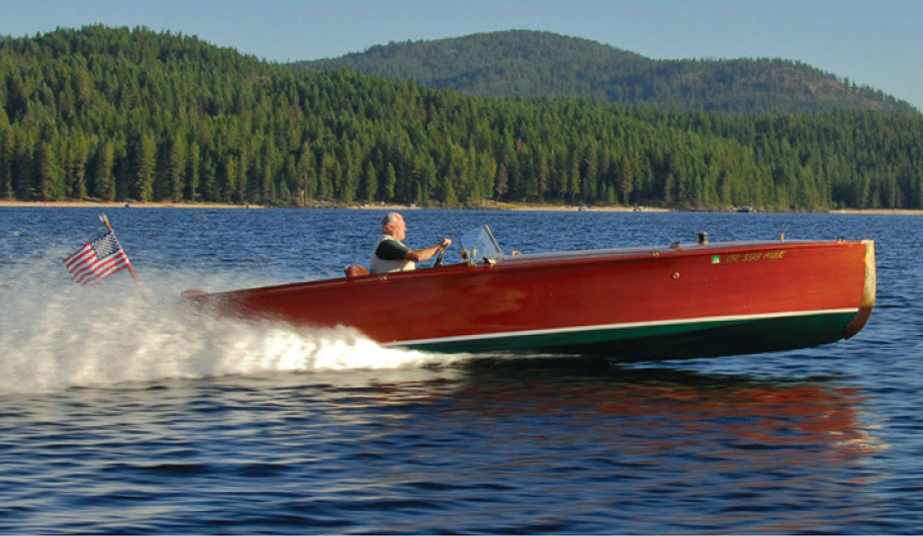 DAS WASSERAUTO | Captained by Frank Robinson & Louise Huegli Werner from Newberg, WA
Das Wasserauto (German-ish for "The Watercar"), is a Dodge Watercar manufacturered by the Horace E. Dodge Boatworks Inc. in Detroit, MI.
The boat is Hull #389 and was built in 1928 (shown on oldest Oregon Title in my possession) or earlier. It is a model 422 (4 cylinder, 22ft) originally powered by a marinized 4 cylinder Dodge Brothers motor (approximately 35 HP).
My father passed the boat to me in 1985. He originally purchased the boat, with no engine, in 1939 from his boss for $25.00. Being The Great Depression, having very little to spend on a hobby, he bought a 30s vintage straight 8 cylinder Pontiac engine with a 3 speed transmission, for another $25.00. He backyard marinized it, installing copper cooling coils in the oil pan and on the exhaust manifold. Being our family boat, when I was young I thought all boats had a clutch, because our boat did.
I worked on preserving the boat from 1993 until 2013 when it was relaunched after 50 years on the hard. All wood above the waterline with the exception of the transom is the original lumber from the 1920s. Everything under the waterline is new but faithfully patterned off the original oil soaked frames and keel. The boat originally had only engine bedlogs, but stringers were installed during the rebuild to strenghen the boat for modern power.
The boat is now powered by a fuel injected 350 ci GM that originally powered a Crater Lake National Park tour boat.
---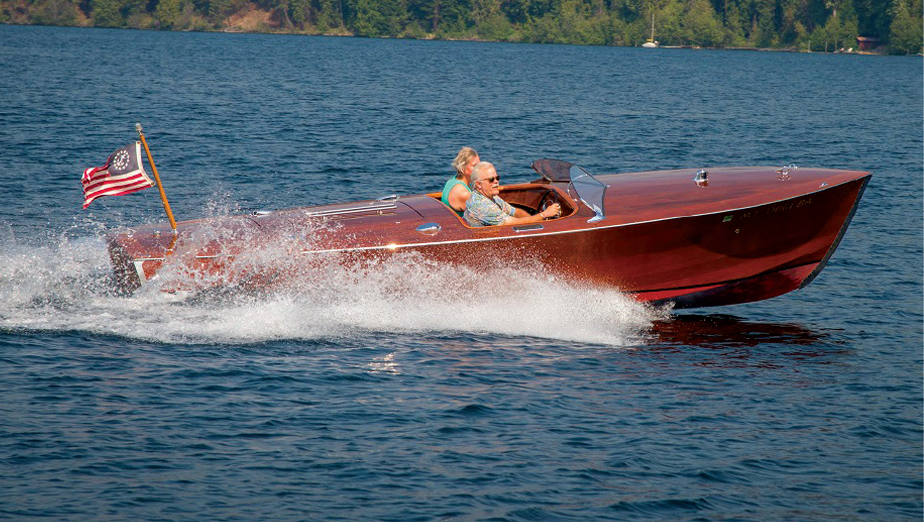 DEBBIE TOO | Captained by Fred & Beth Goughnour from Montana City, MT
Debbie Too is not my old girlfriend...literally or figuratively! The Correct Craft 19.5ft hull is technically a Debonnaire model. She is the first antique wood boat I purchased after working in wood boat restoration for fifteen years. However, I did build a few interesting and small "watercraft" that were not sanctioned for public use while growing up on Lake Minnetonka! Debbie Too arrived in our stable of boats for sale at the shop I was working at in Minnesota. At the same time, I was restoring the same make/model only 4 hull numbers difference. I became very impressed with the combination of Correct Craft construction and performance on the "Debbie One", which she was referred to at the shop. So when "Debbie Two" showed up I made a deal to make her mine. The details that impressed me include a non-batten construction alternative, which uses a two-layer planking method similar to a Chris Craft bottom but uses .25in plywood for the inner layer for not only the bottom, but the hull sides and decks as well. This, along with a lower freeboard, make a stiffer hull resulting in a 20-foot hull that handles like a 24-footer.
Because I restore boats for a living, working on my own restoration was going to take a while. A step-by-step restoration process was completed in reverse order as compared to what we typically do with a customer boat. Not sure why I did this other than time and space available. First, I redesigned the decks to compliment a racing runabout model that Correct Craft put out in 1950 with basically the same hull. After completing the custom deck installation and switching the powerplant from a Ford Y-block to a Chevy 283, I got married and had some kids. So the one cockpit boat with "Debbie Too" on the transom was pre-family. After about two years, I cut out a rear cockpit for some extra room. (I did pre-frame the opening when I redid the new deck- just in case.) The hull sides were replaced a couple years later. The bottom was replaced when water started coming through the bottom on plane and drenching our feet. I did eventually replace the old 283 Chevy with a 350 Chevy crate motor, which gets her up to 45 mph. She has been a reliable runabout! It is fun to take to boat shows and explain the customization of the boat and my skills working on wood. My wife Beth will tell a different story on how the name Debbie Too came to be!
---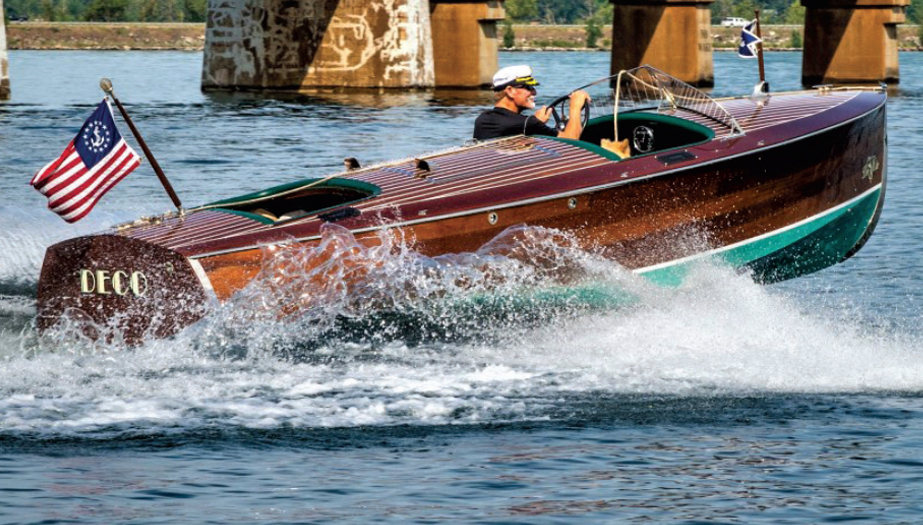 DECO | Captained by BK & Leon Powell from Spokane Valley, WA
DECO is a 1930 Dee Wite named in reference to the "Art Deco" theme of the 20's and 30's. Dee Wite boats were manufactured in Detriot, MI by the Dwight Lumber Company. "Dee Wite" is a variant of the name "Dwight". Dwight provided the lumber for both Chis Craft and Century boats as both companies were near Dwight. In 1929 the decision was made (by Dwight) to manufacture their own line of boats. Starting with one model in 1929 they expanded to seven models in 1930. Dee-Wites were known for their excellent construction and handling. They contrasted with other pleasure boats of the time, being of a narrow modern design, using African Mahogany and White Oak with 8 inch convex decking and 1800 copper boat "rivets" on the hull sides.
DECO was discovered in New Hampshire (a barn find). After a restoration (DECO has 95% of her original hardware) of two plus years she was ready to float again.
Dwight Lumber succumbed to the Great Depression in 1936, taking the boat division with it. Today Dee-Wites are considered extremely rare, with less than a handful known to still exist.
Trivia: Deco sold for $3,200 in 1930, equivalent to $57,836. today.
---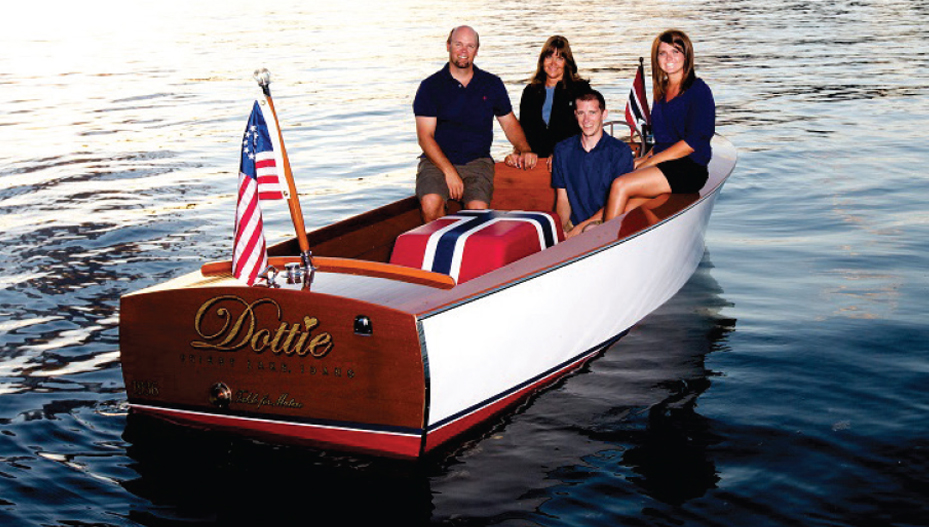 DOTTIE | Captained by Brian & Kathy Fair from Spokane, WA
Dottie is a 1936 Chris Craft, Utility Model 500. She was manufactured in Algonac, Michigan in 1936 at the Chris Craft factory. The 1936 Model 500 Utility was built with no windshield, the steering wheel placed in the middle and no hardware or cleats. Only front and back rings for securing the boat. The purchase price was a whopping $695.
My dad, purchased Dottie, from a man in 1992 who lived in Priest River, Idaho. Mr. Loehn had purchased the boat in the 60's while in Michigan. Dad got Dottie running and drove her once. To my dad's knowledge, the boat has always been named Dottie.
I purchased my dad's boat after his sudden passing July of 2006 from his estate. In honor of dad, we designed the engine cover to look like a Norwegian flag, as dad was 100% Norwegian.
Jim Winslow of Classic Boat Sales & Restoration in McCall, Idaho finished Dottie's restoration just in time to attend the 2010 Payette Lake Boat Show. This event was her maiden voyage after being beautified. Dottie received the honor of receiving the "Skipper's Choice" award. With boats like Dottie being rare and the bottom of the boat line in the 30's, dad would be so proud of his gorgeous Norwegian lady.
---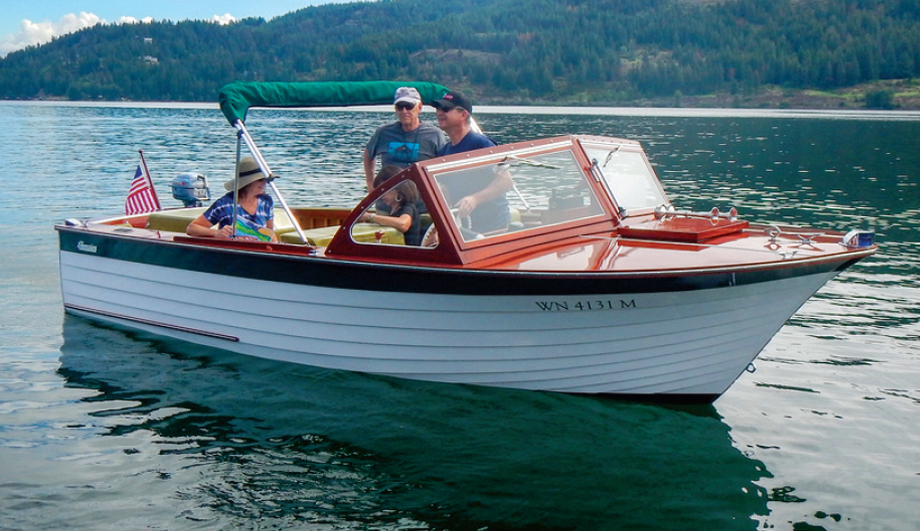 GOLDEN DAYS | Captained by Mitch & Tracy Johnson from Elk, WA
On my father's birthday in 1967 he factory ordered his new 20ft Thompson Offshore and primarily used it for fishing in Puget Sound.
Dad last used the Thompson in 1995 and it sat for over 15 years. In 2010 we decided to begin a complete restoration. The wood was in pretty good shape, but the saltwater had taken its toll on everything else.
The first three years were mostly devoted to tear down, identifying problems, sanding, and replacing all the brass clinch screws. Starting the fourth year the pressure and pace picked up with the goals of entering the boat in the Sandpoint, Idaho boat show in July of 2016 followed by a trip to Seattle in August to take my father for a ride in his boat on his 90th birthday. That was a special day.
Today, Golden Days is completely restored exactly how my father had it set up as his fishing boat including the original trailer, Ross depth sounder, Zenith short wave loran radio, compass, pole holders, original upholstery, helm instrumentation, fishing gear with Penn reels, aluminum ice chest / fish box, and 1967 Evinrude 3 horsepower trolling motor.
---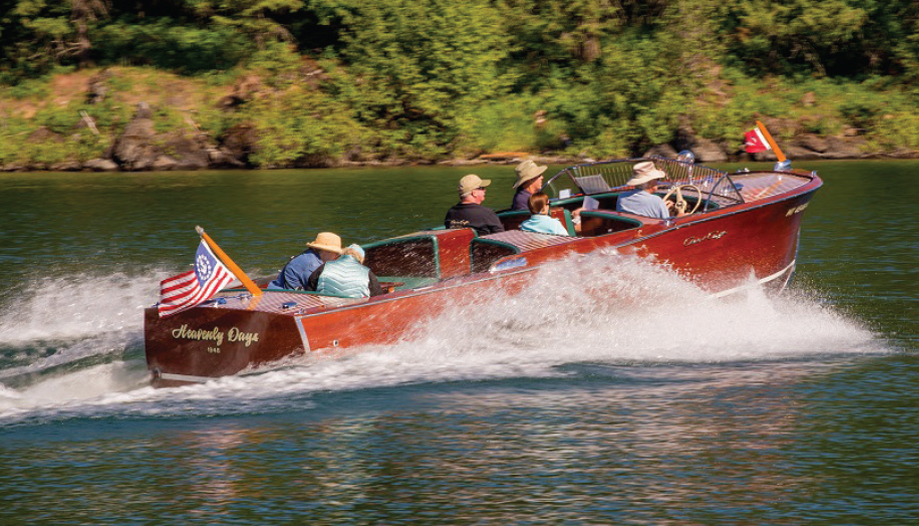 HEAVENLY DAYS | Captained by Bob & Betty Moore from Polson, MT
In 2008, my wife Betty and I were attending a Wooden Boat Show in Michigan when we came across a bulletin board that had a listing for a 1948 twin engine 25ft Chris Craft Sportsman. This was the boat of my dreams, although I had only seen one in my lifetime. When we returned home I placed a call to the owner, and made arrangements to see the boat, which resided in Rice, Minnesota. The only date that worked for both parties was the 10th of December, not the best time to visit Minnesota. My wife and I drove to Rice to meet the owner and see the boat. After a quick "how do you do" our host handed me a flashlight and pointed to an unheated metal shed that housed my dream boat. We stepped outside into minus 25 degrees, with a wind chill of around 30 to 40 below zero. This is where that marriage pledge of "for better or worse" comes in handy. Neither of us had ever been that cold before, but my wife of now almost 65 years, stayed close by with only a few whimpers, while I crawled around that beautiful 25ft Sportsman that now calls Flathead Lake, Montana it's home.
---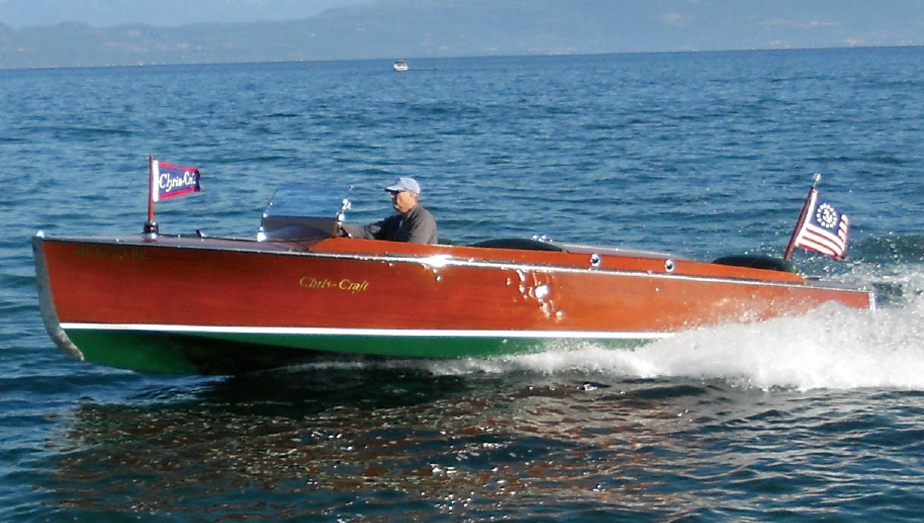 HOBO | Captained by Dean Sackett & Barb Rigg from Somers, MT
HOBO is a 1929 24ft Chris Craft Model 3. Built in Algonac, Michigan, she was inspected on 5/6/1929 and shipped to Lake Hopatcong, New Jersey. HOBO was purchased by a 24-year-old well driller, Harry Tarakajian, for $2750. Harry built a two-story boathouse which he nicknamed "HOBO Jungles" for the new boat. Bud Abbott of Abbott and Costello fame was known to go out with Harry in HOBO.
For a time, Harry operated a Speed Boat Ride business. The Speed Boat Rides poster displayed in the boat is a copy of the original which is currently displayed in the Lake Hopatcong Museum. In the late 60's Harry removed the original 106HP Chrysler LM Motor and replaced it with the Chevrolet 327 that is still in the boat today.
Harry passed away in 1989 at the age of 84. He had owned HOBO for 60 years. Harry left HOBO to his only daughter Winnie, who passed away in 2001, which was the last year HOBO was registered when I purchased the boat in 2007.
In 2017 HOBO travelled to Stanwood, Washington where Restorer Alan Thomle did a complete restoration, including bottom replacement, engine rebuild, upholstery and refinish. HOBO now resides in Queens Bay in Polson, Montana
---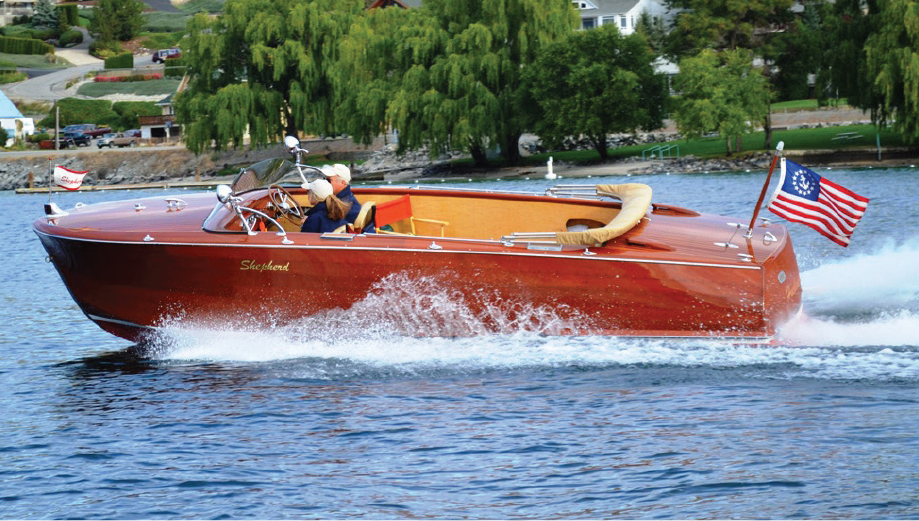 HUCKLEDYBUCK | Captained by Tom & Janet Cathcart from Redmond, WA
This 22ft Shepherd 110-S Runabout was built in Niagara-On-The-Lake, Ontario, Canada, in 1953. The original owner kept the boat in the Kawartha Lakes region of Ontario. Nothing is known of it while in his possession. He passed away and the Shepherd was left in a local marina for a few years. It was discovered by George Griffith, an automobile dealership owner from Lodi, California, who had a summer cabin on the lake. He got it running again and would use it less than five hours or so every summer. I bought it from him in 2006 and have used it every year since. It is powered by a 331 c.i. Chrysler Imperial Special Marine Hemi turning a Chrysler V-Drive.
We conjured up the name as a way to denote speed. When asked about it, I tell them a story of two Canadian men standing on the shore of a lake. One says: "Hey Kevin, look at that old boat out there, she's really going huckledybuck....eh?"
Hey...it could have happened!
---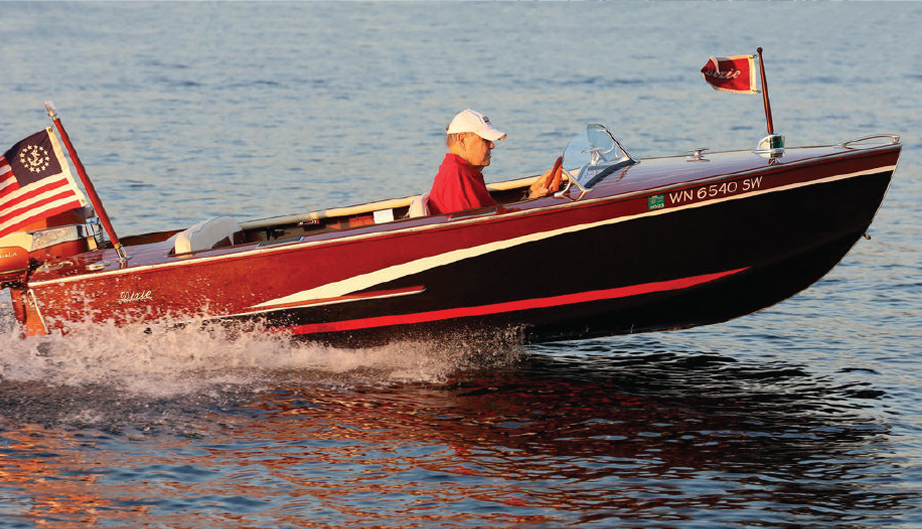 IDLE RICH | Captained by Rich Halbert Sr. & Jr. from Redmond, WA
Idle Rich is a 1956 Dixie (NC) 14ft Runabout with a 30hp Johnson Javelin motor. She was found hiding in a barn near Plymouth, North Carolina in 1999. She was designed and built by Melvin Little of Dixie Boat Works, Newton, NC, an outboard hydroplane racer from the 50's. Idle Rich and I visited Melvin on Lake Norman in 2001. While there, he autographed her dashboard and showed me a photo of her original windshield.
A running 1956 30 hp Johnson Javelin was located in Cleveland in 1999. This Javelin is highly collectible, beautifully chromed, produced for only one year and a perfect match for Idle Rich. This motor was completely restored in 2022 by Silver Marine Outboard Restoration of Peterborough, Ontario, Canada.
Idle Rich was moved from NC to Seattle in 2015 where I joined the PNW Chapters of the Antique and Classic Boat Society and the Antique Outboard Motor Club. DaPron Marine Restorations of Seattle totally refinished Idle Rich and installed the proper windshield as described by the builder years earlier. For comfort, non-original seat cushions were also added.
Idle Rich is the only Dixie listed in the ACBS Membership Directory and is probably the only known surviving Dixie Boat Works wood boat!"
---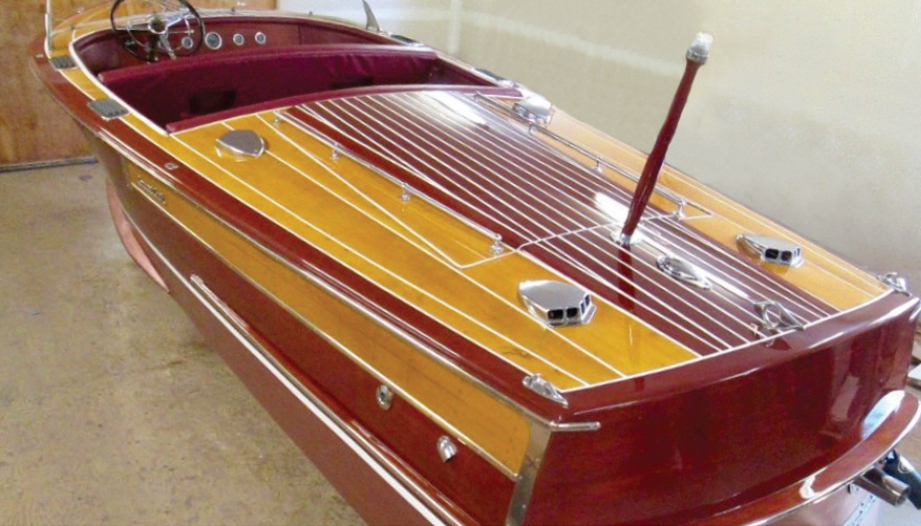 INTERCEPTOR | Captained by Jim Livie & John Bourquin from Bigfork, MT
Interceptor is a 1957, 18ft Correct Craft Collegian double planked Runabout powered by a Dearborn 312 Interceptor V-8 215 HP. She was built in Pine Castle, Florida (near Orlando) by Correct Craft. Correct Craft was originally named Florida Variety Boat Co. which started in 1925. In 1930 they changed their name to Pine Castle Boat and Construction Co. and again in 1938 to Correct Craft. In 1961 they introduced their first "Ski Nautique" fiberglass ski boat. The Interceptor operated out of Cypress Gardens, Florida until the early 1970's and then relocated to Flathead Lake Montana with a new owner. In the 80's the Interceptor was entered in local classic wood boat shows by the fourth and fifth owners.
We purchased and started the extensive restoration in 2004 working on her only as time permitted. Due to a heated garage and beer, we were not in any big hurry. In 2020 we began to realize that father time was beginning to catch up with us and earnest restoration began. With guidance from Doug Tweto, replacement included a cold molded epoxy bottom, wiring and electrical components, deck and stern planking, plus many other parts. The engine was blue printed and balanced in the 80's and gone through in 2005. The original trailer was completely rebuilt in 2021. All varnishing and polishing were done by Doug Tweto in Woods Bay. The restoration was completed in the spring of 2023.
---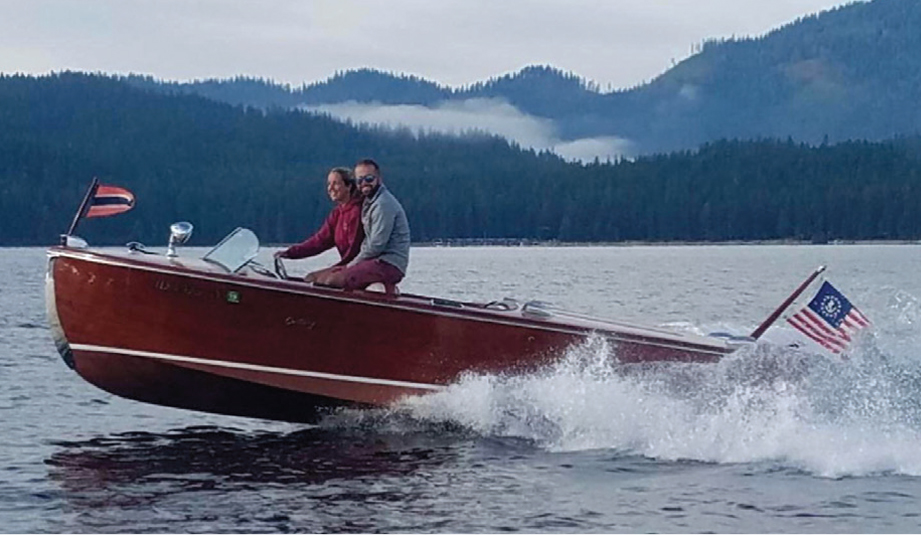 ITHACA | Captained by Riley & Caitlyn Anderson from Colbert, WA
Ithaca is a 1948 Century Seamaid 17.5ft. Originally owned by Dan & Dee Indgjerd of Spokane, WA, The Dandee1 was a wedding gift to us in 2018, however when gifted she came with a rotten transom, a blown head gasket and in need of a fair amount of work. With help from Dan, we dove head first into an 8 month restoration that took place in Dan's shop. The restoration began with removing all the bright work, the engine hatches, and the engine. The engine headed off to Cassell Performance Engines in Spokane for a total overhaul, while work continued on flipping the boat upside down, removing the traditional bottom, replacing the keel, the transom, 2 ribs, all the intermediate battens, and inner plywood followed up with an install of a 5200 bottom. Once the bottom work was completed the boat was flipped, fully stripped, sanded, bleached, bungs replaced, and stained, followed by 15 coats of varnish. With the stripping of the old varnish came the removal of the boats name, which is historically extremely bad luck. With Dan & Dee's blessing we preformed a traditional Renaming Ceremony to appease Poseidon and expunge the boats previous name and any bad luck that would follow after being renamed. Now known as Ithaca (named from greek mythology and being the place of happiness at the end of a long journey) she is primally enjoyed at Priest Lake Idaho where she can be found gliding across the lake on her way to morning coffee at the Tyee, or dinner at Hills.
---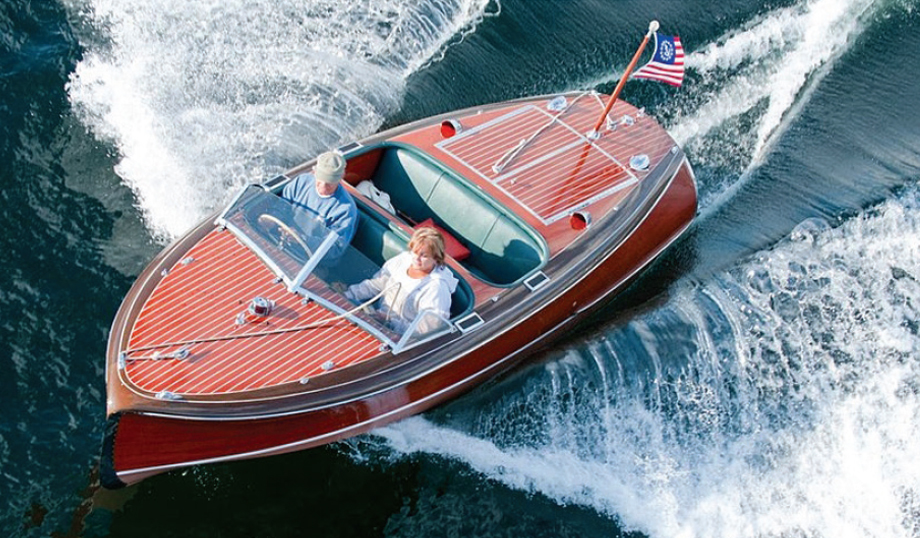 KILLER | Captained by Steve Zwarg from Spokane, WA
Killer is a 1942 Custom Runabout 19ft.
In the summer of 1975 I went to look at a '71 Cadillac with a friend out in Chattaroy. When we were looking at the Caddy, I noticed a boat in the barn and the car's owner Ray said it wasn't for sale. In my mind I always wanted to buy that boat, a 1942 Chris Craft custom Runabout.
Months later I stopped and asked again. Ray wasn't there and the kids said go ahead and look at the boat. That's when I found out the CC belonged to their older brother in Texas. They gave me his number so I called him up. I told him I wanted to buy the old boat in the barn and to my surprise, he said I could have it.
A few years later, my phone rings and its Ray wanting to sell the '42 CC because his daughter was getting married and he needed the money. He wanted $1,000 for the boat and I said ok. I loaded up my trailer and went to get the boat but when I got there he wasn't home. I loaded up the boat but he never showed up so I left the trailer there and went home.
The next day I called and found out he was in jail. I called the jail to find out when he was going to get out. Ray said he wanted me to come bail him out of jail. I told him I would but I had spent part of the $1,000 I had for the boat. I said I had $750 left and he said ok. The rest is history.
---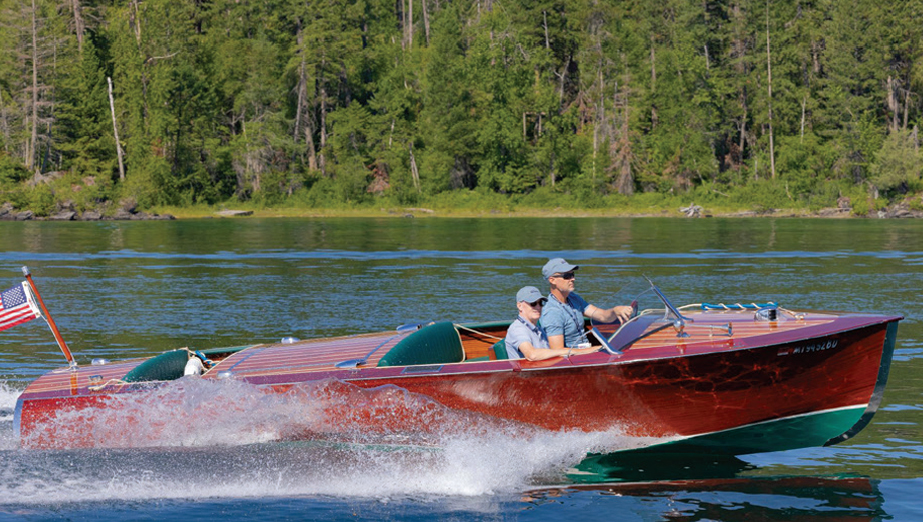 LAUGHING RAVEN | Captained by Frank Leftwich Jr. & Sr. from Columbia Falls, MT
The Laughing Raven is a 2020 Glen-L Marine Riviera, 21.5 feet long with a 7 foot, 1 inch beam. Her engine is an Indmar Marine 5.7 Liter V8, Carbureted 315hp with a Borg Warner Velvet Drive model 71C 1:1 ratio transmission. Her top speed is 45 miles per hour.
This boat was hand built by myself from the blueprints. The hull design was slightly modified so that it more closely resembles the style of hull designs of the 1950's era. It incorporates the "Cold Molded" construction method of epoxy encapsulation coated with varnish. This prevents the shrinking & swelling of the wood that causes wooden boats to leak. Effectively, the wood never gets wet.
It started as a dream of mine to own an old Chris Craft Runabout when I was a boy, but after years of woodworking experience and the evolution of acquiring the space to restore or build one of these beautiful boats, the actual "journey" began in 2009. It was a "Labor of Love" and a joy to build over the years. Her name comes from observing the Ravens on my property while building the boat. They would be flying, playing, and calling to each other in their unique sounds that often sounded like them laughing. In June of 2020, the Laughing Raven was completed and launched on Whitefish Lake.
---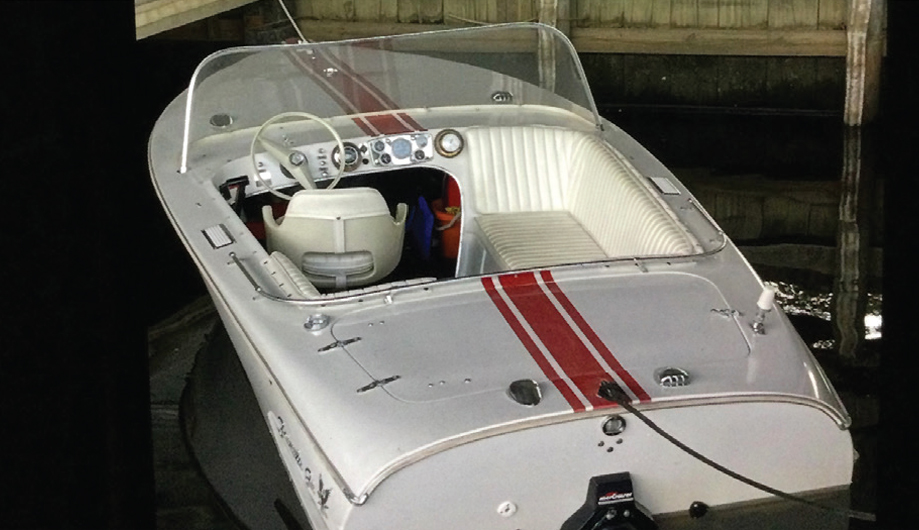 LIGHTFOOT | Captained by Lorne & Leslie Kermath from Kalispell, MT
The Formula Jr. has a Mercruiser 4.3 V6/190hp engine and was designed and raced in '62 by Jim Wynn as "Wyn-Mill II". It won in Paris, England & the US. Wynn (known as the father of the I/O) also designed and patented the stern drive. He used it with great success to power Wyn-Mill II and many of his later racing designs.
In '63 Wynn partnered with Don Arronow of Formula Boats and designed the Formula 233 (the first Formula design), and made the 17ft Wyn-Mill II the second Formula design: the "Formula Jr". Before production began the company was sold to Thunderbird. Thunderbird went on to build 150 Jrs. from 65 to 69. I don't know how many of those survive, but I've only found a dozen or so.
In the meantime, Arronow started Donzi Marine and wanted Wynn to design a similar boat for him. The inside story is that Wynn cut a foot off the stern of the 17ft Wyn-Mill II, squared off the "barrel back", and the first Donzi became known as the "Donzi Sweet 16". They are still sold today.
---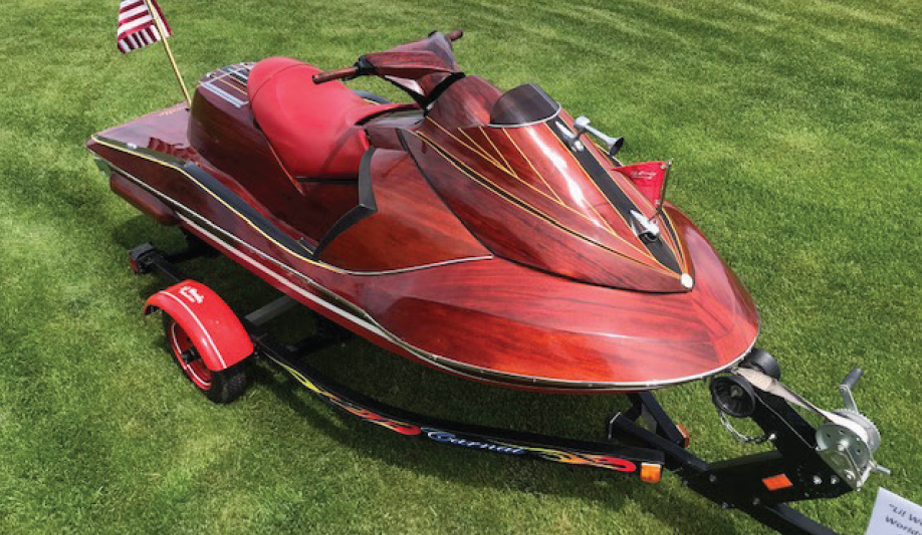 LIL' WOODIE | Captailed by Dale & Candyce Brevik from Polson, MT
Lil' Woodie, the worlds only classic style wood jet ski, was completed by me in 2021. Lil' Woodie was conceived at the Whitefish Woody Weekend boat show in June of 2019. A group of boat owners were sitting around a table at The Lodge at Whitefish Lake enjoying a beverage when Bob Moore, president of the local ACBS Big Sky chapter, made the comment as to never having seen a wood jet ski. Jokingly I replied that would be something I could build. After another beverage or two I stated that I not only could do it but that I would make it happen. Maybe I was not thinking too clearly at the time, but I soon found myself researching the internet to see what existed in the form of a wood jet ski. Turned out that such builds were nearly non-existent and certainly never done in a classic wood boat theme.
It took me several months to find a suitable jet ski with a hull that had the lines and shape that would allow for a conversion to the classic wood boat look my mind had envisioned. I ended up purchasing a 2002 Sea Doo GTX 4-Tec for $1,200. It was a nice looking, low hour ski with some hull damage and a jet pump that had seized. That was not a problem since I was going to give it a new wood surface and the pump got a new impeller, housing and bearing. The ski was new enough that it had a 3-cylinder 4 stroke engine that is much quieter than the older 2 stroke models.
Lil' Woodie incorporates most of the classic wood boat features of yesteryear including a brass flagpole at the stern from which a nautical American flag is flown and topped with the classic beehive lens with functional lamp. The bow has a working airhorn and navigation light with a pole for the Lil' Woodie pennant. Close inspection will reveal the woodpecker medallion at the very front of the bow and small woodpecker ornaments affixed above the pennant pole, and also embedded into the ends of the wood handle grips.
The name Lil' Woodie is a play on semantics. Classic wood boats are most typically known as a "Woody" while a "Woodie" is more often an early station wagon with some wood bodywork. And of course, there is the cartoon character Woody the Woodpecker. So, the name and concept incorporate all variations of several wood themes.
Sea trials were completed June 18th, 2021, on the waters of Flathead Lake and the first wooden boat show in Montana for Lil' Woodie was at Whitefish Woody Weekend IX that same year.
---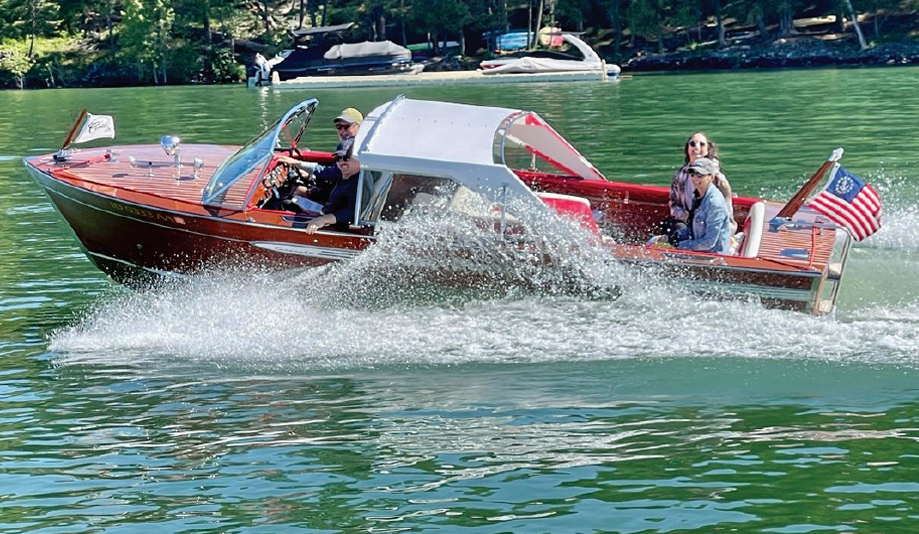 MARIANTHI | Captained by Patrick & Maria Santy from Harrison, ID
Marianthi is a 1966 Century Coronado. Maria and I purchased this boat from a fellow IEACBS member and friend, Murray Danzig on June 29th, 2017. The boat was named Esperanza at that time. According to Murray, he bought the boat several years after it was fully restored by the Resort Boat Shop in Coeur d'Alene in 2006-2007. The restoration was a complete rebuild from the keel up including a rebuild of the original Buick/Gray Marine 401/280.
Shortly after we purchased Esperanza, we wanted to make it our own with a new name. In Ferbruary of 2018, I surprised Maria by naming the boat after her using her beautiful full name "Marianthi" which translates to several things including "lilly of the sea", "sea blossom" and "beautiful flower". At the same time we had the boat fully refinished with new bottom paint and complete re-varnishing.
According to records provided by the Century Club and based on the HIN, this Century Coronado was sold to its original owner in Nebraska on 6/8/1966 with a Buick/Gray Marine 401/280. It was the 105th made that year. We are not sure how it made its way west but are very grateful it did.
---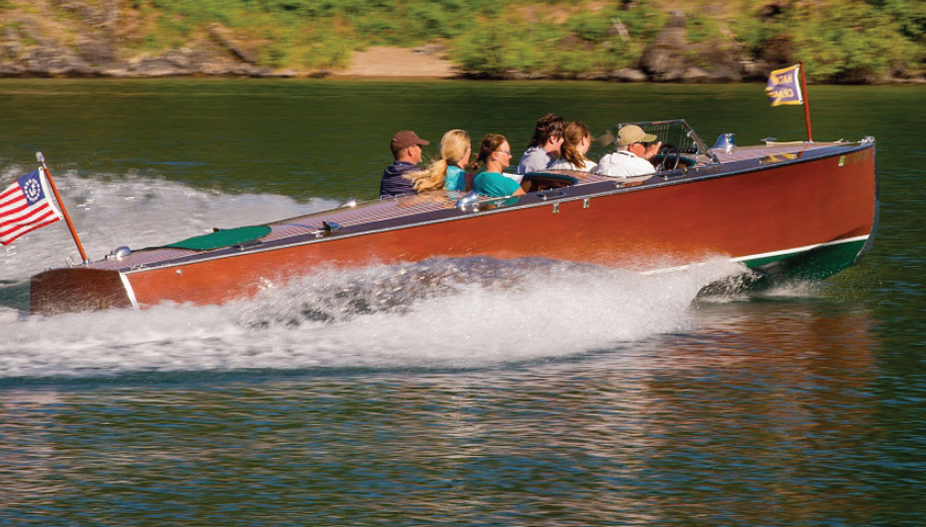 OBSESSION | Captained by Jim & Marci Valeo from Missoula, MT
Obsession, a 24' triple cockpit runabout, was built in the Hacker Boat Company shop in Lake George, NY in 1990. Like most reproduction Hacker's, she is built along original lines drafted by John Hacker, a famous marine architect of the 20's, 30's, and 40's. He was responsible for designing many successful racing boats found on the internet.
We bought Obsession in Gig Harbor, WA in 2005 from a man who had bought her used at the Hacker shop in Silver Bay on Lake George. The previous owner toured his way back West stopping along the way at lakes to use her. Afterward, he kept Obsession in a shed and used her for vacations in WA, ID, and MT. I don't think she was ever in salt water.
My family could not think of a more suitable name (some say it's bad luck to change the name of a boat), so she is still Obsession. Obsession lives in a shed on our ranch outside of Missoula and is used sparingly on Whitefish Lake and Flathead Lake. She was stripped to the bare wood a refinished by Fred Goughnour in Montana in 2016,
---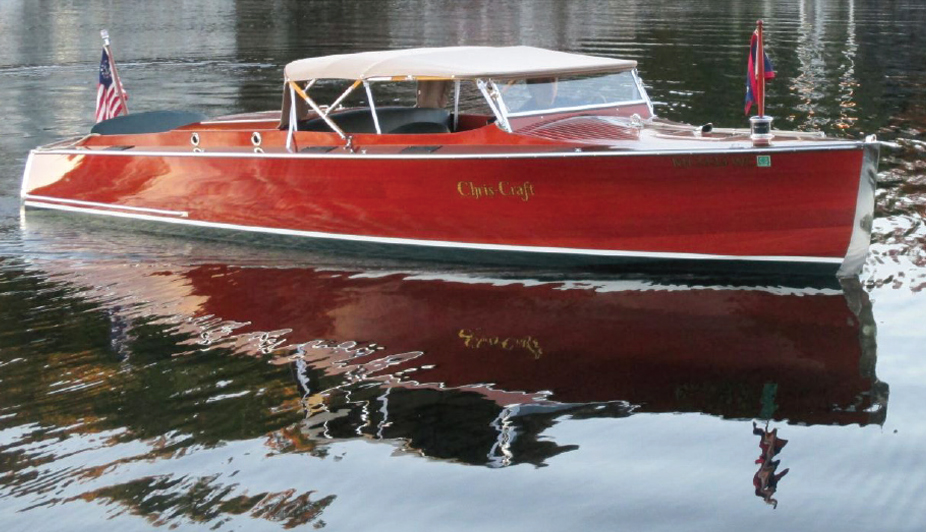 ORO Y PLATA | Captained by Ken Cook & Jo Eckhardt from Polson, MT
Oro Y Plata is a model 103. I have owned her since 2018 and new she cost $2852.00. Muller Boats did most of the woodwork. I have freshened the mechanical items. You can see from the line sheet she was shipped to a dealer in New York and after that I have no information. The Kroh top is a real original and has been used to cast reproductions by Beau Muller.
---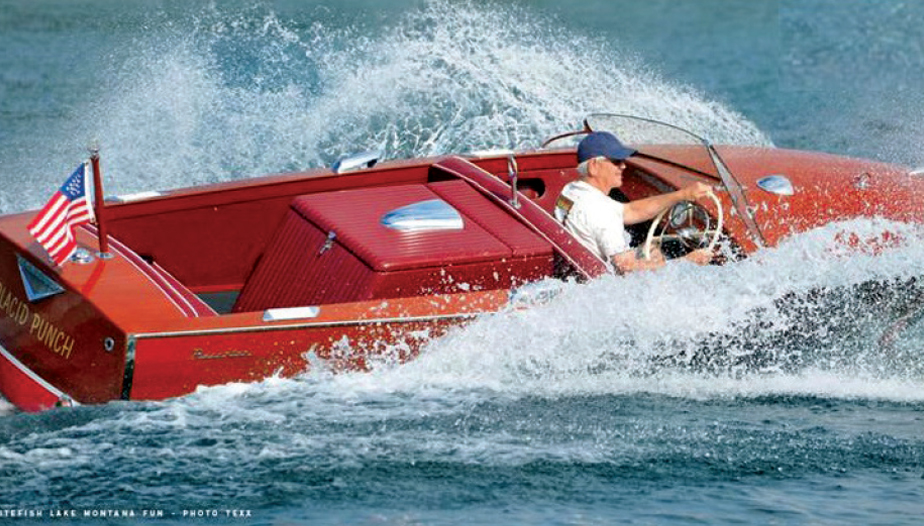 PLACID PUNCH | Captained by Wally & LaDonna Bell from Helena, MT
Placid Punch is a 16ft 1958 Century Resorter. Century Resorters gained recognition as the ideal water ski boat. It was chosen as the official boat for the National and International competitions through the 1950s. These boats were built fairly light in weight with mostly large engines with a top speed around 42 mph.
We purchased the boat in 1994. It was in storage and had not been in the water for over 15 years. Over the years the decks have been replaced and a new 5200 bottom. The 292 cubic inch reverse rotation Ford Interceptor has been rebuilt.
Placid Punch finds its home on Placid Lake, Montana. This boat had never been named so it was christened Placid Punch for the grog that was traditionally served at the Captain's Party for the lake's annual sailboat regatta.
---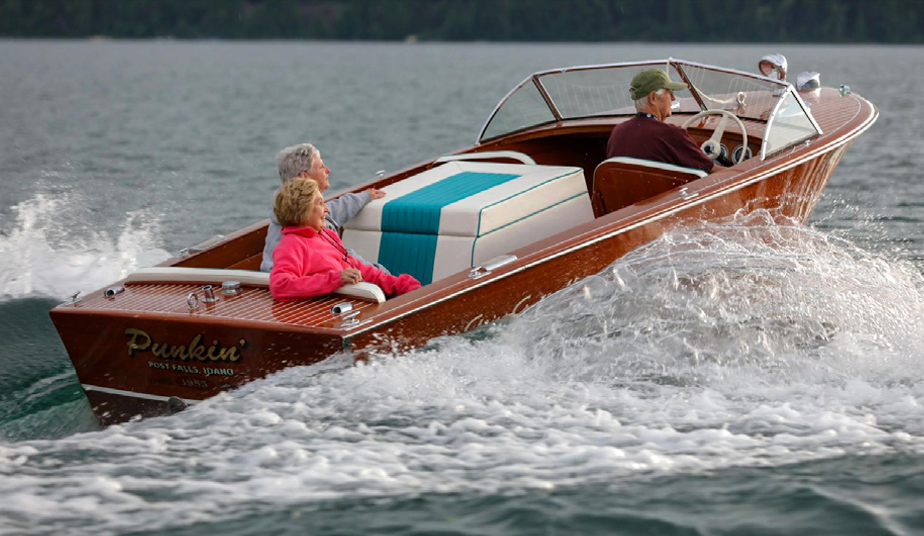 PUNKIN | Captained by Glenn & Kathy Dutro from Post Falls, ID
Punkin is a 1955 18ft Chris Craft Holiday and the name is our daughter's childhood nickname. Kathy and I bought the 1955 Holiday in 2018. The boat was in decent shape, needing just a few small repairs to make her show worthy, and her first show was at the Sandpoint Wooden Boat Festival in July of 2018. We were so glad to find this boat that was in really good shape, having been cared for by the Coeur d' Alene Resort Boat Shop for approximately 17 years with the previous owner. It was nice finding a good looking, running boat that we could use while we are restoring our 1951 19' Chris Craft Holiday that we purchased in Sandpoint, Idaho in 2017. Starting in 2019 we started doing minor repairs on Punkin. Since I was a former upholster, I decided to tackle a larger project of a new interior of marine grade vinyl in teal and white, that was finished up in 2019. The next project was a major event. Terry Deems and I pulled out the tired and ugly Ford 312 Y-Block engine, and spent the next several months transforming it into a stunning red painted, copper plumbed, aluminum, powder coated gem complete with Interceptor intake manifold, Interceptor exhaust logs, and much more. The motor was torn apart for many months, and we finally debuted the new engine at Hill's Resort, Priest Lake, Idaho in the fall of 2020.
---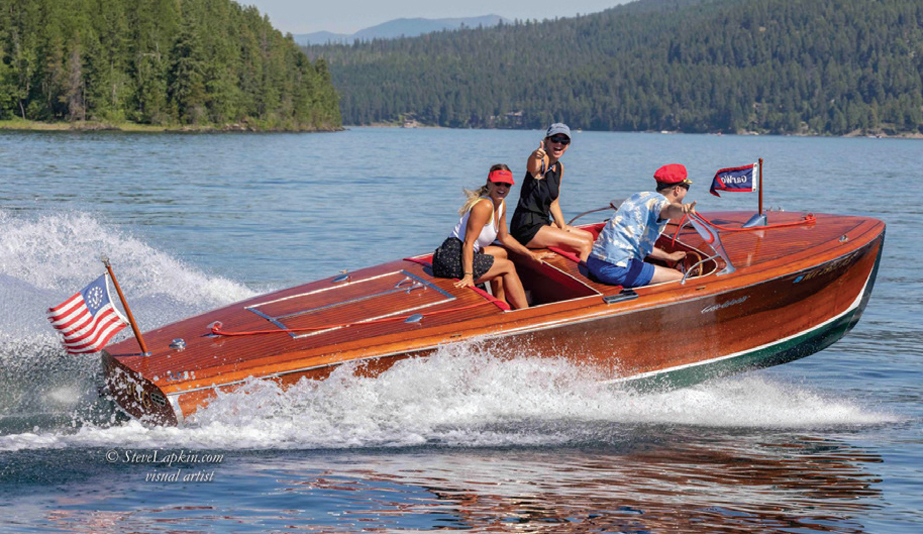 RED DOG | Captained by Scott & Maryly Suiter from Whitefish, MT
Red Dog is a 1946 Garwood 19ft 6in Deluxe Runabout model "606", Hull number 7248. The boat was built in Marysville, Michigan in 1946 and was shipped to the South Coast Company in Newport Beach, CA on December 5th 1946.
There were 206 boats made in this series – Red Dog being 147. This was the hull model used by famed designer Norman Bel Geddes in his development of the Commodore series of Garwood boats which started to roll out in late 46. The boat went through a full restoration at the Boat Shop in Coeur d'Alene in 2006.
I am lucky to be the third owner. I purchased the boat in 2008 in Whitefish from Alan "Skip" Kennison. Skip used to give tours of Whitefish Lake on Lady of the Lake. Red Dog was the aviation call sign of the original owner during WW2. I wish I knew more about the original owner.
The boat sank and sat on the seabed of the Balboa Harbor for a week before being raised. The original owner used to employ Skip (the second owner) to cover and clean the boat when he was a young kid. When the boat sank years later, he called Skip, and said "if you raise it, it's yours." And the rest is history as they say.
---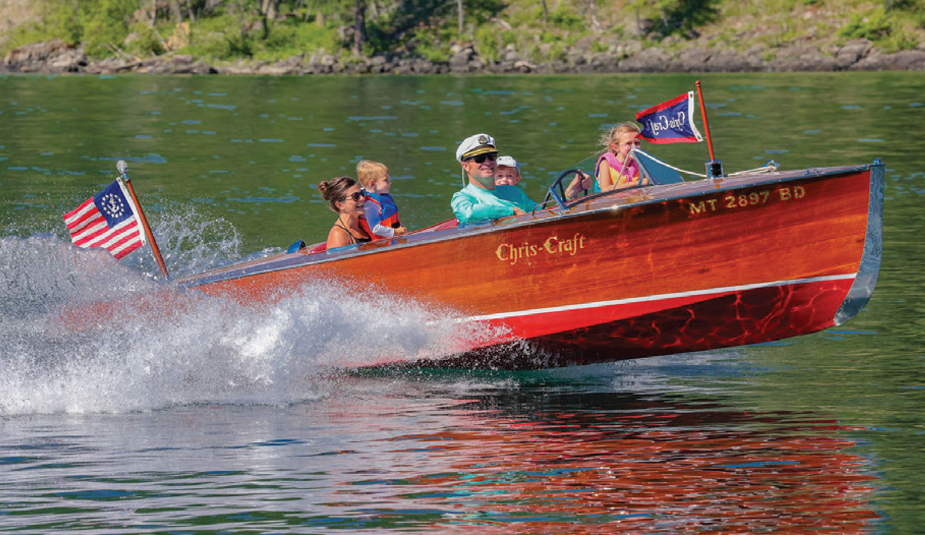 RED, WHITE, & BRUT | Captained by Derek & Amber Bronken from Bozeman, MT
This 1942 17ft Chris Craft Special Runabout, one of 241 produced for the model year, was delivered new to a dealer in Greentown, Pennsylvania in September of 1941.
The original owner cared for her for roughly a decade, before Dr. Evans "Beau" Guequierre purchased the vessel, in 1954, and christened her "Infidel"; derived from Masonic nomenclature, of which Evans was a devout member. Dr. Guequierre would own the boat until the day he died in 2017. Following his death, the good doctor's brother sold the boat to us.
It was decided that, prior to cross-country transport, the Chris Craft would undergo an exhaustive restoration, carried out by Wooden Boat Restoration of Millington, Maryland. Following the yearlong restoration, the boat was delivered to its new homeport of Whitefish Lake, Montana, in May of 2019. She was re-christened "Red, White, & Brut"; a punny, patriotic nod to the Bronken family business in wine and beer distribution.
She is enjoyed as frequently as possible by our family as well as my parents Peter and Barb. The boat retains its original Hercules "K" engine, producing 95 HP. Everything but the varnish and gold-leaf are as it left the Chris Craft factory in Algonac, Michigan.
Red, White, & Brut was featured on the cover of The Brass Bell magazine, Spring of 2022.
---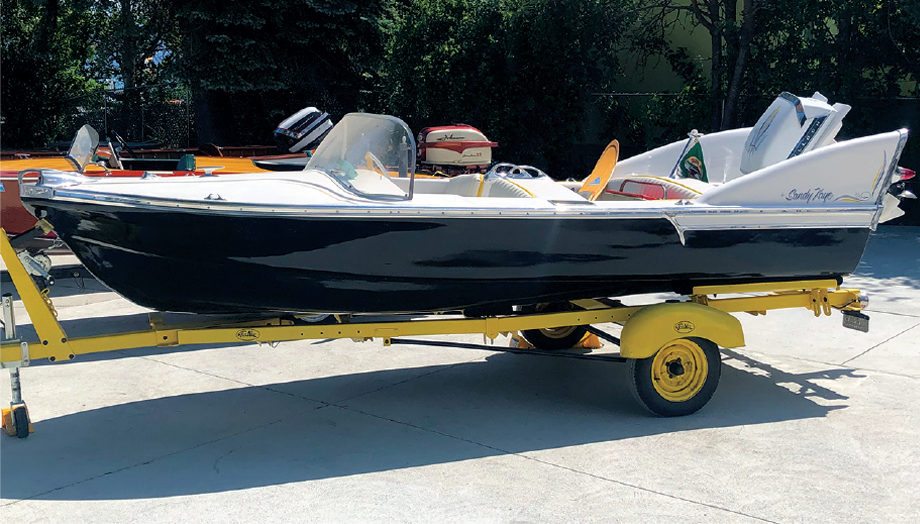 SANDY KAYE | Captained by Warren & Sandy Davis from Lakeside, MT
Sandy Kaye is a 1958/59 Herters Duo Foil Flying Fish. These boats were originally manufactured and sold by Herters Sporting Goods of Waseca, Minnesota. She was found in a western Montana hayfield by a fellow ACBS member. After a couple of roadtrips and donor boats, all the missing parts were sourced to complete the Sandy Kaye. She was brought back to life by the Classic Company in Somers, MT. She is powered by a period correct McCulloch outboard engine. As for her name, I figured if I named her after my wife, she might let me keep her. I guess I was right!
---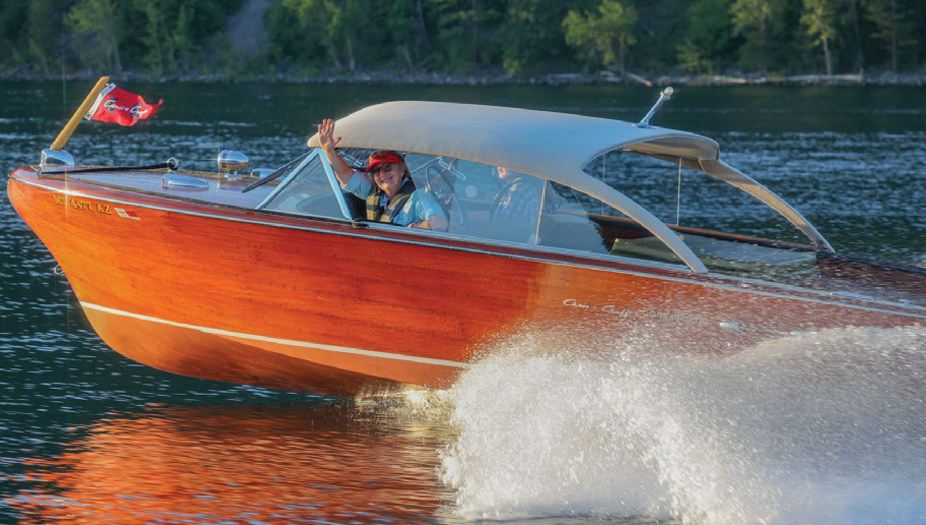 SHADY LADY | Captained by Deb & Tim Salt from Whitefish, MT
Shady Lady is a 1955 22ft Chris Craft Continental Sedan Hardtop. Chris Craft introduced this top-of-the-line utility model in 1955. Of 102 Continentals built that year, 28 were equipped with a 200 HP Hemi engine and 20 were built with the sedan hardtop. Only three were built with both the Hemi and sedan hardtop options.
The Shady Lady is believed to be the only one of the three built still on the water today.
The boat shipped from the Chris Craft Michigan factory to a dealer in San Francisco, CA in June of '55. She underwent a complete makeover in the mid-80's and had a West System bottom installed in the mid-90's. The Shady Lady arrived in Montana from Indian Lake, PA in 2010 and was then refinished in 2011 and 2014 with the engine being rebuilt in 2013. She is a "preserved" classic boat.
The Shady Lady was reportedly used for illegal activities in the Sacramento Delta area in the 1970's. With her signature hardtop and the legend of her illicit past, it was only fitting to re-christen her the Shady Lady on June 14, 2010, her 55th birthday.
---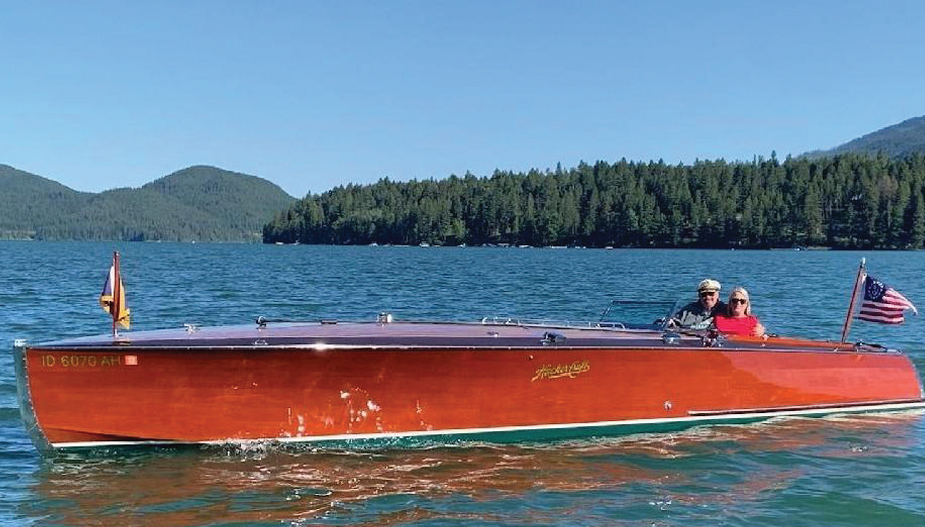 SIRIUS | Captained by Terry Deems & Cindy Thompson from Coeur d'Alene, ID
Sirius is a 2004 Hackercraft Gentleman's Racer. Hackercraft is an American company founded in Detroit, Michigan in 1908 and is the oldest constructor of wood boats in the world. It was founded by the prolific, accredited marine designer, and naval architect John L. Hacker. In the 1930's Hackercraft's slogan was "The Steinway of Boats" as they were renowned the world over for their fine wood craftsmanship, and the sleek and fast V-Bottoms they produced.
They moved to Queensbury, New York in the early 1970's, and are now still building wooden boats today in Silver Bay, New York on the beautiful shore of Lake George, but are only producing the 30' Gentleman's Racer model every few years or so on special order.
I purchased Sirius (named after brightest star in the heavens) in the summer of 2021 from one of my very best friends of 15 years Mr. Murray Danzig. Murray was a stalwart of the boat clubs, and a hardcore boater for 80 years. Murray and I had so much fun working on all of our 8 boats every winter and spring getting them prepped and doing maintenance chores. Murray always knew that Sirius was one of my very favorite boats in his collection. After a few beers on my driveway he offered it to me at a very fair price, since I was with him when he bought it ha! I have since completed some needed varnishing, and electrical upgrades.
Murray and I trailered the boats to Whitefish from Coeur d Alene every June for the awesome Whitefish Woody Weekend , and last summer was his last trip to Whitefish with his beloved flagship boat, a 34ft custom built, all mahogany, 900 horsepower, twin race engine, Coeur Custom named "Jefe".
This will be the first year at Whitefish without my little buddy...We were still boating up until he passed away suddenly in August 2023 at the age of 90. I miss him dearly..."May you find fair winds and following seas, shipmate. We have the watch now"...R.I.P. Captain.
---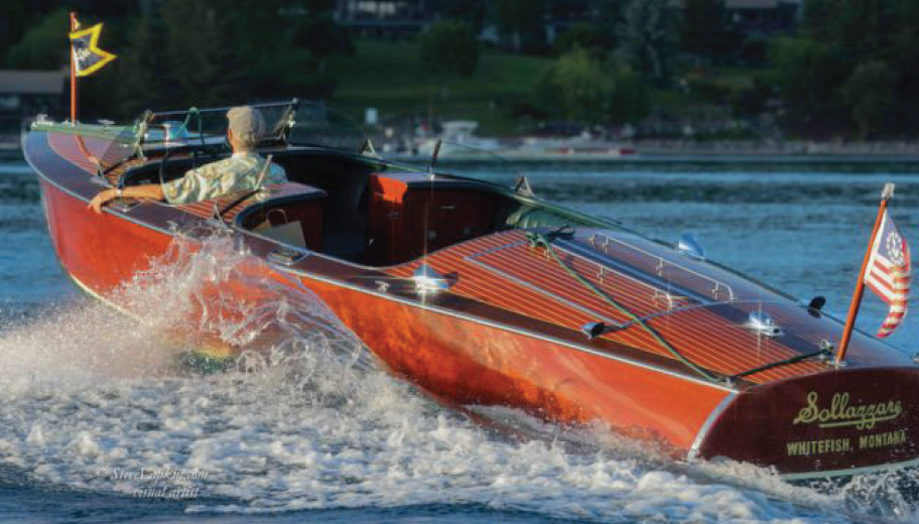 SOLLAZZARE | Captained by Tom & Woody Suiter from Whitefish, MT
Sollazzare is a Hacker Craft Runabout 2000 built by Hacker Craft in their factory on Lake George, NY. I took delivery of the boat in July of 2000.
When we took Sollazzare for its first ride, the first boat my son Scott and I encountered was a wooden boat called "Red Dog". The captain of that boat was Skip Kennison, who was well known around Whitefish Lake. Skip used to be the captain of the "Lady of the Lake", the wooden boat owned by the Lodge at Whitefish Lake. We found it very coincidental that the first boat that crossed our path was a wooden boat! Scott always loved "Red Dog" and ended up buying it from Skip many years later. To add to the tale, Scott and his wife Maryly named their first child (and our first grandchild) "Skip Thomas Suiter". So now we have an official "Skipper" in our family!
Sollazzare is in its original condition, and has only had some minor clean ups done over the years by Steve Nichols, owner of The Classic Company in Summers, MT. During one of the clean ups, I needed to have the transom gold leafing redone, so I did it myself. It was one of the coolest experiences I've ever had!
When we needed to name the boat, my family was having breakfast at the Buffalo Grill in Whitefish. We recently had returned from a vacation in Italy, and one of our boys had an English/Italian dictionary. We found the word "Sollazzare" which means, "to entertain and have fun". That is exactly what we've done with our boat for 23 years!
On our inaugural boat ride, after crossing paths with Skip, I looked down in the bilge and saw quite a bit of water. I reached down and unscrewed the brass drain turnkey, and the whole turnkey came out! I couldn't screw it back in! PANIC! My co-captain and son Scott, being a modern version of "McGyver", jumped out, took a wine cork we had and shoved it into the hole. Once we got it back to our dock we were able to screw the turnkey back in correctly. I had visions of my boat sinking on its maiden voyage! Thank goodness we didn't have a "Titanic" on our hands! She still floats perfectly today, 23 years after that scary incident!
---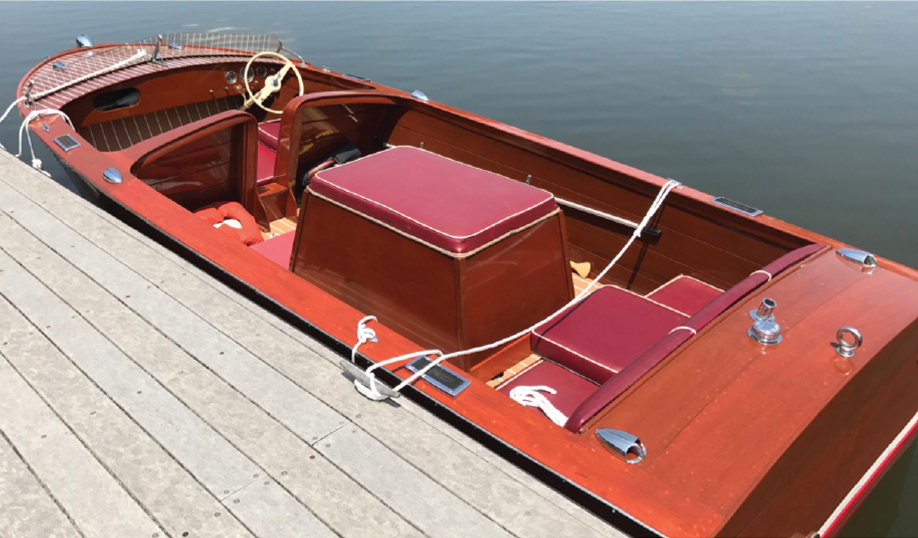 SUNDOWNER | Captained by Marshal Kushnirk & Julie Williams from Whitefish, MT
Sundowner is a 1953 Chris Craft Sportsman 20ft, 158 HP MBL engine with the original upholstery.
Originally purchased by the former governor of Tennessee, Buford Ellington, her home was the J. Percy Priest Reservoir in Tennessee, where she resided until 2020.
I purchased Sundowner from Buford's grandson in April 2020 and brought her to Whitefish Lake. With help from Steve Nichol at Classic Boat she is now tuned and eager to run in her new home. The project for 2023 will be gold leaf and new varnish.
---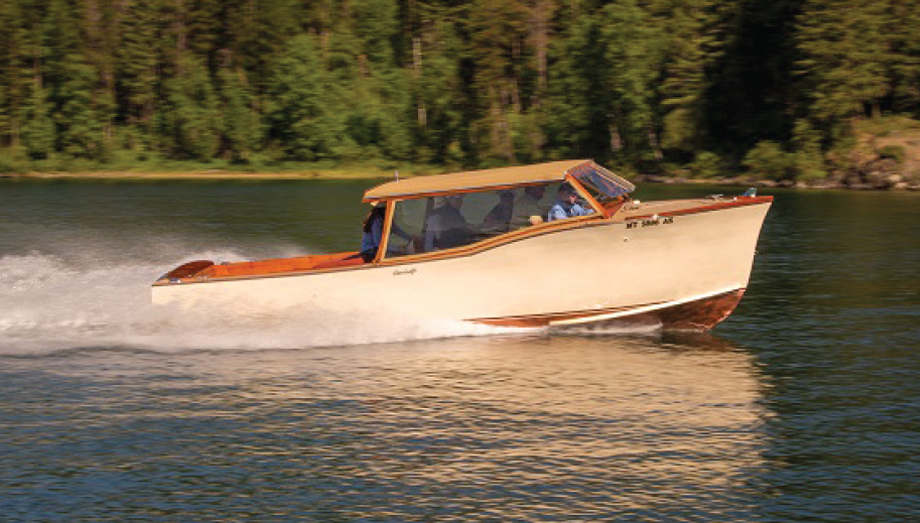 THE BARB | Captained by Larry & Barbara Schroeder from Kalispell, MT
I passed by the boat in a Woods Bay "grey boat junk yard" for a couple of years before getting interested in ACBS. I had never heard of a Stancraft but met a fellow, Bob Smith, at Eagle Bend Show who had worked for the builder many years ago. I asked him if he would take a look at the boat to see if it could be restored. After finding the manufacturing plate he said the hull number was #6 of the 25ft Day Cruisers. The early models from 1946 to 1948 were built with white oak frames and planked with Yellow Alaskan Cedar, which was "now very scarce and if you found some it would be very expensive. There would be no rot in the cedar and the frames looked OK. Plywood bulkheads and flooring completely rotten."
Bob suggested I call Syd Young in Idaho who was still building Stancrafts. Sydney was somewhat excited I had found #6 and told me there were 19 built and he owned the next to last one built in 1951. Thus began a wonderful friendship. I could not have successfully undertaken the project that was to follow without his help.
To have Stancraft do the complete restoration was beyond my budget but the stars aligned and a young neighbor had left the corporate world to build wooden kayaks in Montana. Bob Warren, a PhD macro biologist was a bright guy who was building very beautiful inlaid kayaks but did not have enough orders to to keep his business going. When I asked him if he knew anything about old boat restoration he said he had never done one but everything he needed to know was on his computer. We agreed on a reasonable hourly rate and off we went. Two years transpired and the hull was ready for Stancraft to install running gear, wiring,cushions, new engine mounts to accommodate the 350 Mercruiser replacing the original 90hp GreyMarine, etc. My fear was the Stancraft folks would say our hull work was not worth spending any more money on. However, the shop foreman came into Syd's office and reported, "Who is this guy Warren? He has put things in that hull that even we were not aware of." Did I breathe a sign of relief! The rest of the story is the boat you see today.
---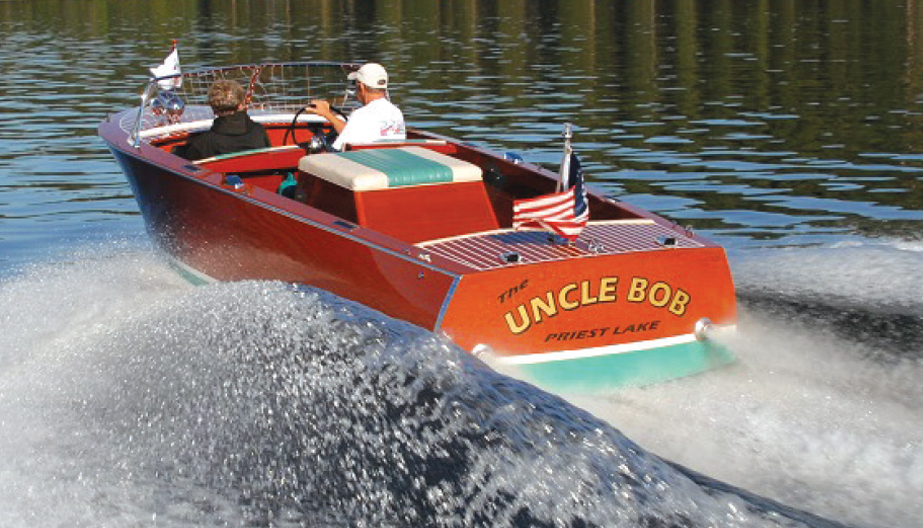 THE UNCLE BOB | Captained by Ron & Jane Yandt from Spokane Valley, WA
The Uncle Bob, a 20ft Utility, was built at Yandt Boat Works on Coeur d'Alene Lake in 1963. Yandt Boat Works was owned and operated by Bob Yandt, Sr. and his son Robert Yandt, Jr. Bob Yandt was my uncle, thus the name of the boat. My son, Wes Yandt, and I restored the boat in 2003-2010.
There are only 4 boats still in working order that were built by Yandt Boat Works: The Greyhound, a 1921 Gentlemen's Racer owned and restored by Alan Thomle in Stanwood, WA; The Uncle Bob and a sister ship, Big Red, located on Lake Coeur d'Alene; and a larger version of The Uncle Bob, The Wiki Wiki II, a twin engine 26ft Utility, originally built for Hank Day of Day Mines.
Wes and I are currently restoring another Yandt Boat, The Skippy Jr. The Skippy Jr. is a 23ft Triple Tunabout with a rear engine V-drive that was built in 1940. The Skippy Jr. was built like the Garwood Streamliner.
---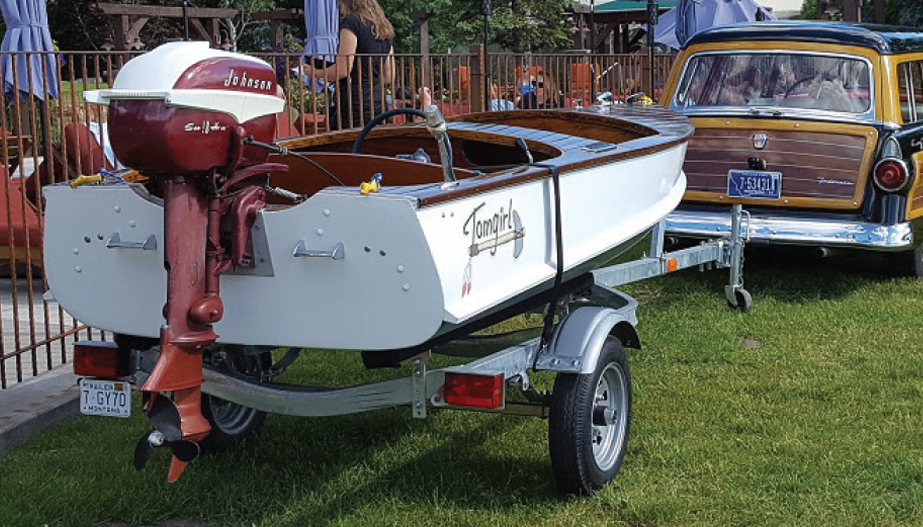 TOMGIRL | Captained by Linda & Tim Babiak from Whitefish, MT
Tomgirl is a 1955 12ft Spirit Deluxe made by Tomahawk Boat Manufacturing Corporation in Tomahawk, Wisconsin. She was already 50 years old when we purchased her in 2005 and at the time was being restored 300 miles away from her home in Wisconsin across Lake Michigan at Starboard Marine Restorations in Grand Rapids, Michigan.
We were told she had all of her original hardware and the original steering wheel. She is sporting a vintage and sometimes problematic 1956 18hp Johnson Seahorse motor. This motor has an electric start, which that part is very dependable and also rather hard to find. Unwilling to give up on our electric start motor, hope springs eternal, we continue to nurse along the vintage Johnson Seahorse.
The couple who had this boat for sale had never been to Yellowstone Park and offered to meet us in the Park for delivery, so that's how we came to acquire our cute as a bug's ear, "Tomgirl".
This is an interesting sidebar written by Gary Thompson, son of Royal Thompson, co-founder Thompson Brothers Boat Manufacturing, about the founder of Tomahawk Boat company:
"Tomahawk Boat Co was started by a guy named Franklin Winters. He worked for my dad a bit in northern Wisconsin, then went and worked for Rhinelander Boat Co. for a while. Then he started the Tomahawk endeavor, but had a hard time making it thrive. Of more interest, he was EARLY into fiberglass, and for quite a while was a major supplier of fiberglass bodies for Harley Davidson Golf carts. (Harley being based in Milwaukee, WI.)"
---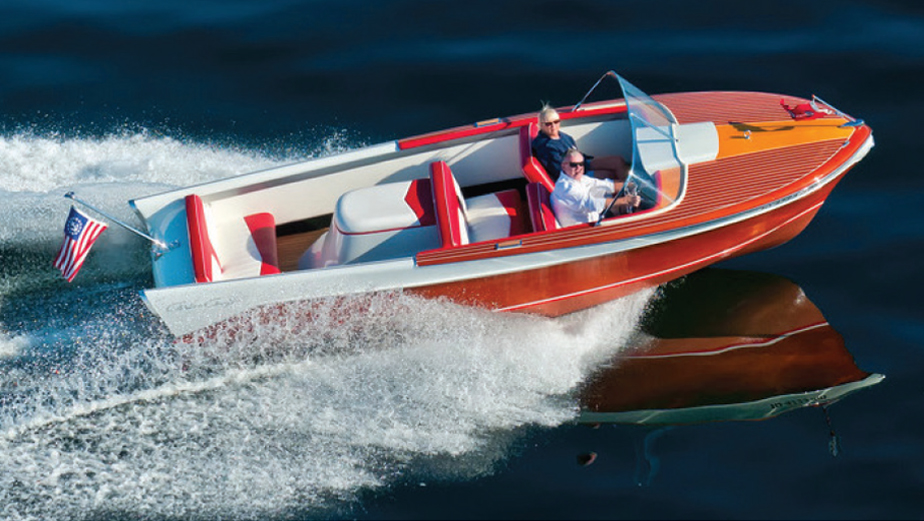 TWIN FINN | Captained by James & Cyndi Atkinson from Chatsworth, CA
Twin Finn is a 21' 1959 Chris Craft Continental, hull number CL-21-149. She was manufactured in Cadillac, Michigan and initially delivered on Dec. 11, 1958, to Greene Valley Motors in Catskill, New York.
Chris Craft developed and manufactured the "finned" continentals between 1957 and 1959. The series included 185 boats. This was a very small production number and consequently is a relatively rare model.
The finned continental was truly a transitional boat. The early trend of incorporating automotive styling is clear in the large vertical tail fins, the use of fiberglass to style the motor box, the "trunk-like" rear deck and the ventilation cowling on the foredeck.
Many of these details were taken from the 1955 Chevrolet. In the late 50's, Chris Craft was struggling to compete with the emergence of fiberglass boats. The large production volume of Chris Craft was not possible with early fiberglass technology that was slow to cure, so the automotive styling using bits of fiberglass was the solution!
The original list price was $5980, which was the cost of three automobiles. The boat is powered by a Chris Craft 283 cc V-8 engine and cruises at 38 MPH.
---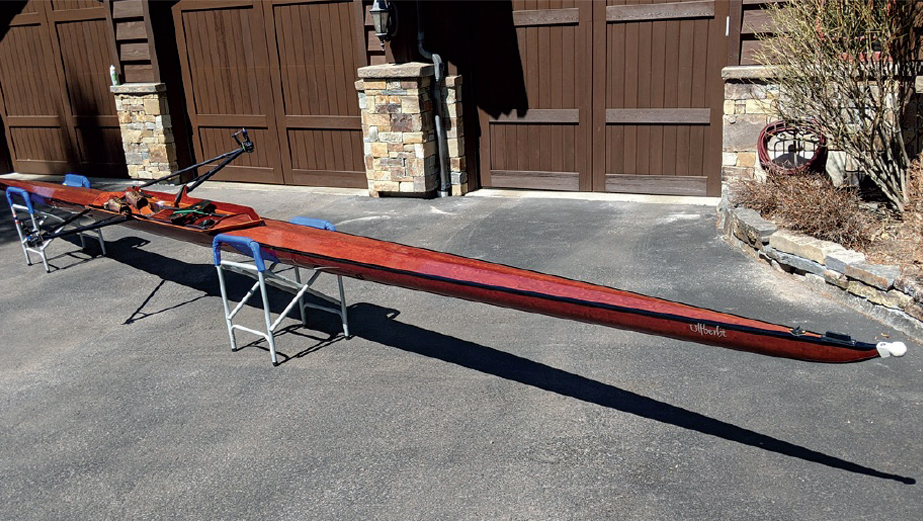 ULFBERHT | Captained by Bob & Kathy McElrath from Whitefish, MT
Ulfberht (Viking Sword) is a single racing shell (single person rowing boat) designed and hand crafted in 2016 by Jurgen Kaschper, owner of Levator Boatworks Limited, Dorchester, Ontario, Canada. Jurgen is the son of renowned designer and shell builder Jakob Kaschper, who brought his skills and expertise to North America in 1958 from his ancestral home in Eberbach, Germany. Ulfberht is a hybrid woody construction, incorporating traditional wood and contemporary materials. It was built using a carbon fiber/s-glass inner hull and honeycomb Nomex deck for maximum racing stiffness, and steam laminated with figured South American mahogany. The A-frame riggers are anodized aircraft tubing fitted with titanium oar lock pins. The hull was finished by hand brushed polyester with hours of wet sanding.
By the numbers, Ulfberht measures 27ft 4.5in in length, the waterline beam is 10in, and her weight is 35 pounds. It is stiff and fast on the water with an excellent run.
I purchased Ulfberht in 2022 out of the Atlanta Rowing Club and have logged many kilometers on Whitefish Lake and other Flathead area lakes. Unquestionably, however, Ulfberht is most in her element on the majestic flat water of Lake McDonald in Glacier National Park.
---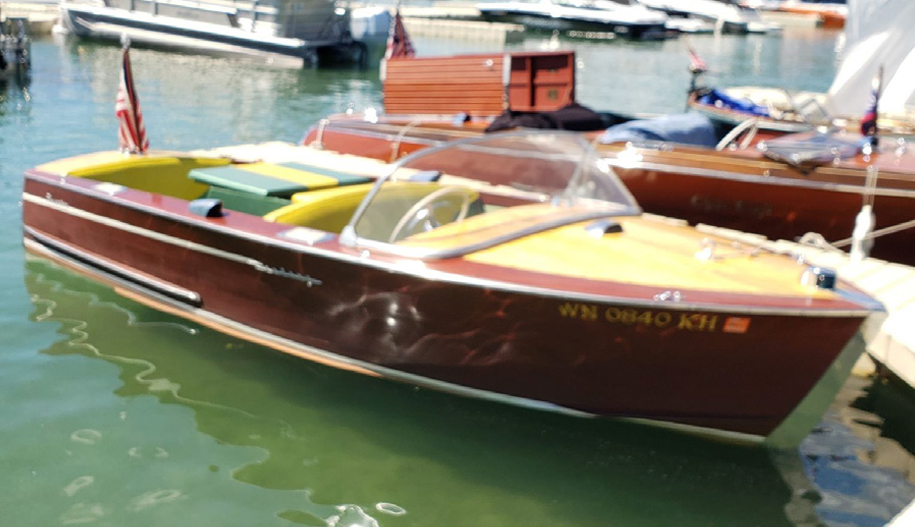 UNNAMED 1957 CENTURY RESORTER 17ft | Captained by Zoe Boysen
I bought the 1957 Century off of Newman Lake around '71 or so and used the boat for a few years at Priest Lake camping and skiing.
I had the boat on Diamond Lake in late summer of 1972-73 waterskiing with friends. I noticed a lady in a rowboat waving at us when we went by, so we stopped to see what she wanted. She wanted to know if the Century was for sale. I took her name and number at the time and told her if the boat ever came up for sale, I would let her know. Not long after that, I had a chance to buy a Chris Craft Runabout (Killer), so I called her up. She said she could buy the Century and she did around 1974, I think.
Many years later I restored my 1942 CC for an international show ('08). I asked around to find someone to put the name and Chris Craft script on the boat. My friend Tom Baker said he could fix me up with a guy, Tim Vanderwanter, who could do it. When Tim showed up to do the job he said all boats had a story and he wanted to know the story of Killer. I told him the story of how I bought Killer and I about fell over when he said the lady in the rowboat who wanted the Century was his mother. He said he learned to ski behind the Century.
Long story short, they decided to sell off some boats and cars after his mother passed away and Tim said the Century was for sale, so I went to look at her. She hadn't been in the water for many years and I told him I would think it over. I mentioned the boat at breakfast a week or so later and Zoe, what you didn't want her back? The next weekend we went back to look again and the Century followed us home and is back in the water after 20 or more years in storage.