Whitefish Mountain Resort Ski Magazine ranks it the No. 3 resort in the west and No. 1 in in local flavor. With 3,000 skiable acres, snow for days, 14 lifts, and 105 trails, Whitefish Mountain Resort is the gemstone of northwest Montana. Affordable and uncrowded, Whitefish Mountain Resort provides all the amenities of much bigger resorts in North America. Try Inspiration (widely considered the signature run), East Rim for some steeps, Hellroaring Basin for mega powder, and the north side of the mountain for a family-friendly approach. Catch lunch at the Summit House, Base Lodge, Hellroaring, Ed & Mully's, or the Bierstube, and save apres ski for The Lodge at Whitefish Lake's "Oysters & Bubbles" happy hours with $1 fresh oysters from 4-6 daily.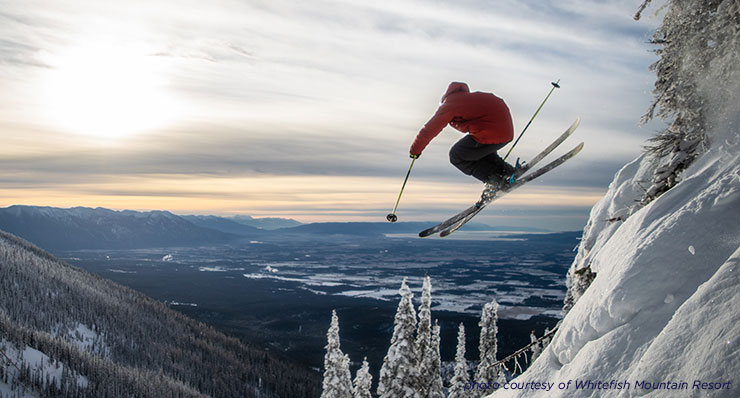 Cross Country Skiing You can hear locals say, "Cross Country is my favorite Season." With many kilometers of magnificent groomed trails, Whitefish is a cross country ski destination in itself. Whitefish Lake Golf Club transforms to the Glacier Nordic Center with 12k of groomed trails and 4k that is lit for night-time skiing. The Whitefish Trail/Big Mountain Nordic Trails provide 25k of some of the best skiing Montana has to offer. Check out the Glacier Nordic Club for their ski education programs and grooming reports for Nordic trails in the area.
Snowmobiling Northwest Montana and Whitefish in particular are becoming a snowmobiler's paradise. With access to over 200 miles of groomed trail and over 2,000 miles of Forest Service roads, there in no lack of areas to explore. Whether you are looking for a nice family ride, or some of the steepest and deepest terrain around, snowmobiling in the Whitefish area is a bucket list must. The people at Whitefish Marine, or Swan Mountain Snowmobiling will have you grinning ear to ear.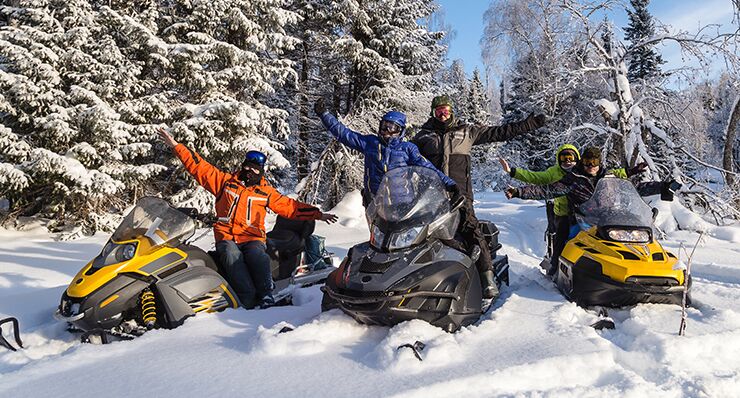 Fat Tire Biking, Snowshoeing, Ice Skating, and Dog Sledding There are so many winter activities in Whitefish, MT that you could probably stay a month and not do the same activity twice.
Fat Tire Biking - an activity many haven't yet tried. It's just like normal bike riding, but with bigger, fatter tires to grip on snow and ice. Check out Glacier Cyclery for rentals and tips for where to ride.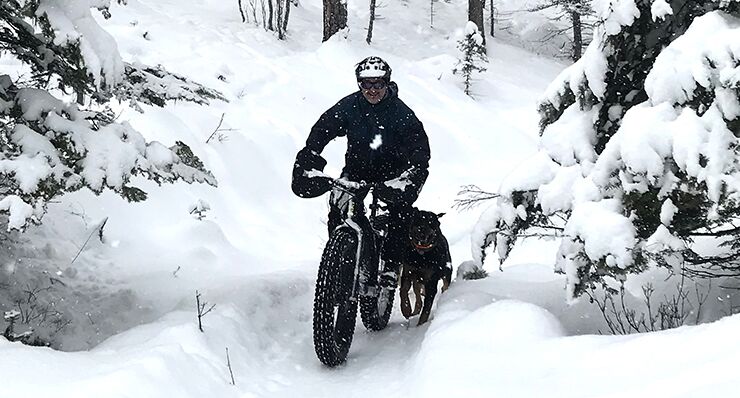 Snowshoeing - Opportunities abound for a peaceful walk, floating on top the snow. A great activity for all, snowshoeing can be learned quickly. Grab a pair and head to Whitefish Mountain Resort, Whitefish Trail, around Whitefish Lake, Round Meadows, Glacier National Park and more. For more information check out Explore Whitefish.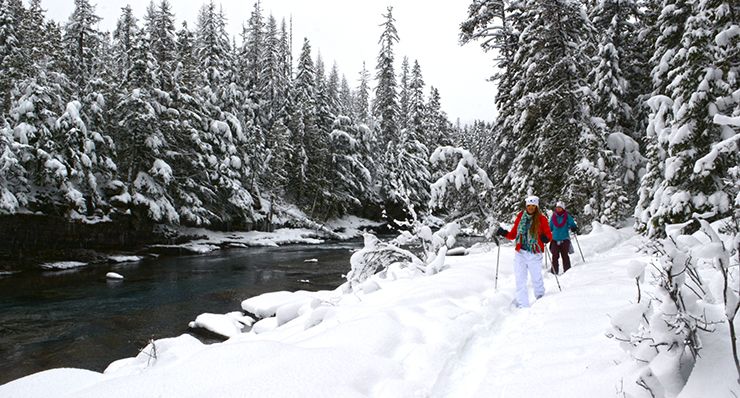 Ice Skating - Try your hand at becoming the next Kristi Yamaguchi at Whitefish's one and only ice rink, the Stumptown Ice Den. If open skate is not your thing, there is a good chance of a hockey match happening on any given night in the winter.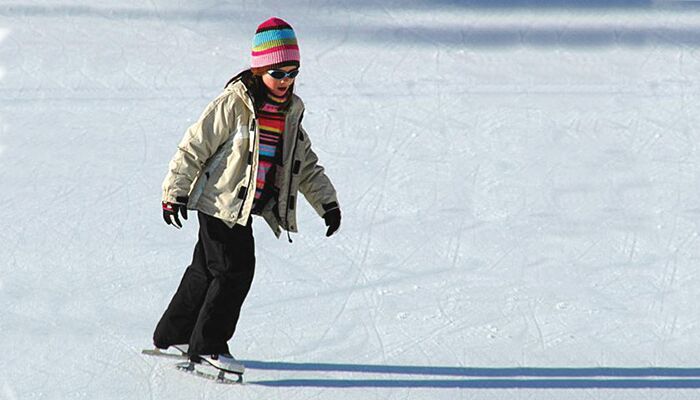 Dog Sledding - Just minutes from Whitefish, you can cruise the backcountry on a sled pulled by a Montana sled dog. A thrilling adventure to say the least, dog sledding will be a once in a lifetime opportunity. Try Dog Sled Adventures Montana for a story you can't wait to share with your friends.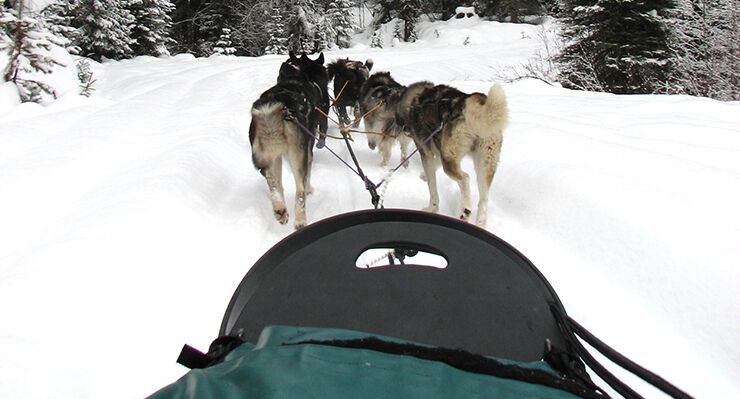 Shop the Town Downtown is full of unique shops, restaurants, and bars that will give you that true Montana ski town experience. Whether you are looking for a burger and beer at the Bulldog Saloon, or a classy appetizer and dinner spot at The Firebrand Hotel, Whitefish has an abundance of choices within walking distance. If you forgot your coat or sweater, try The Village Shop, or The Toggery Whitefish for the latest styles.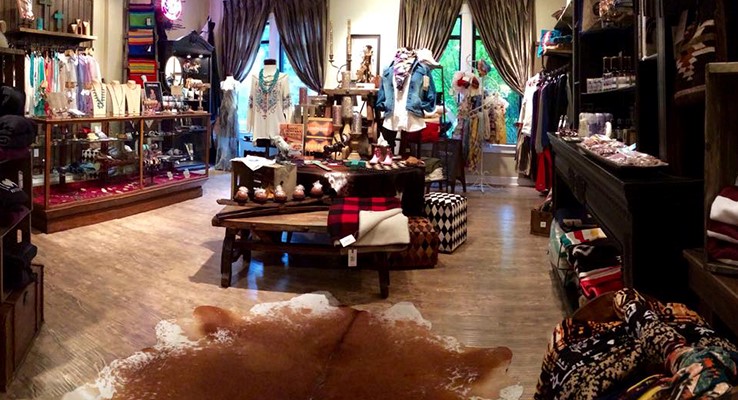 Whitefish Winter Carnival One of the most happening events all winter in Whitefish, MT. King Ullr and Queen of the Snows invite you to participate in almost a month's long worth of activities from the Merry Maker (Jan. 11), Disco Party (Jan. 18), Ski Joring (Jan. 26 & 27), to the Grand Parade (Feb. 8) and after-party at the Firebrand Hotel in downtown Whitefish. For more information on this annual event check out Whitefish Winter Carnival.